Comprehensive overview of what you can expect for your artificial grass installation from
Ace Turf
Professional consultation
Upon requesting a quote, an Ace Turf representative will reach out to you to setup a consultation to discuss the details of your project. At the consultation we will show you all the product options available and talk through which products will be right for your unique needs. We will then take all the measurements of the area and determine the most efficient way to complete your project. With this information we will provide you with an accurate quote for your project.
Get A Free Home Consultation
---
Ace Turf will then be able to offer you a free estimate based on your specific and unique needs.
As with anything, an artificial grass installation is only as good as the foundation on which it is built.
Existing surface of project area (grass, soil or rocks) is stripped away to a 4-6 inch depth. This material is then taken to a soil recycler.
Edging material is used to define the grass area and to keep any bed/garden soil from migrating into the crush gravel base over time. This edging material is not required against concrete/paver edges or edges defined by any type of wood.
Crush gravel is then used to fill the area at a 4-6 inch depth. The gravel is raked and levelled and then compacted. This gives a hard, smooth, stable surface for the artificial grass to be installed on top of. The gravel base still allows water to pass through it allowing rain water to permeate the ground and get to trees and plants as needed.
The artificial grass is brought on site in the predetermined pieces from the consultation. These pieces are laid out, cut and seamed together to cover the defined grass area. Seaming is done with a one foot wide seam tape and a bio-friendly speciality adhesive which is safe for humans and animals.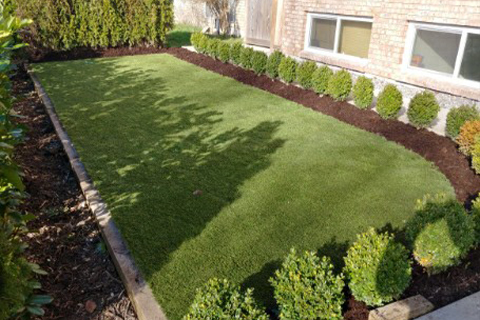 After the grass is cut and in place it is nailed with four inch spiral nails to pin it to the base. Nails are placed every 6 inches around the perimeter of the grass and also placed in a grid pattern of about 12 inches by 12 inches throughout the centre.
Infill the artificial grass. Infilling refers to the practice of spreading either zeolite or silica sand evenly over the surface of the artificial grass and then working it into the base of the blades in an even layer. This is important for a few reasons. Firstly, it helps to secure the base of the blades forcing them to stand more upright. Secondly, it helps to protect the backing (the sheet the blades are woven into) from UV exposure, preventing deterioration. At Ace Turf we use Zeolite over sand as zeolite will retain moisture helping to cool the grass throughout the day.
Finally the last, and very important, stage is to leave your project and surrounding area in the same (or better!) condition to which we found it. It is our responsibility to thoroughly clean after ourselves and leave you with a sparkling clean finish.
We at Ace Turf are excited help you realize the dreams you have for your outdoor or indoor space. Any project we lead is treated as if we are installing in our own backyards. Large or small, complete customer satisfaction is our goal.
We are looking forward to working with you!
Get A Free Home Consultation
---
"Great work ethic. Technical expertise. Prompt responses."...
Lydia R.
---
---
Installing synthetic or artificial grass in areas where children play or in sporting areas for older kids has many advantages. There are obvious si...
The decision has been made. You are done with mowing, seeding, fertilizing you lawn. Time to install artificial grass. Don't you just go to the sto...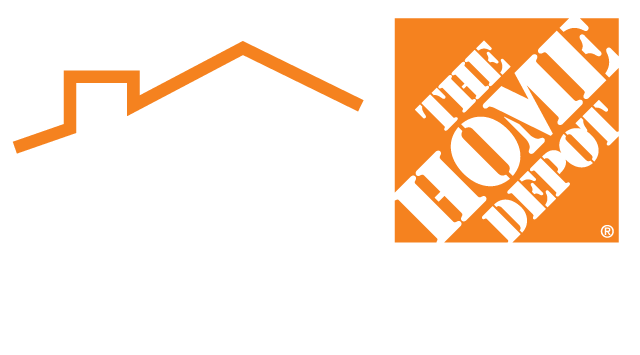 Ace Turf is an Authorized Synthetic Grass Installation Provider for Home Depot customers serving British Columbia and Alberta.